In a world of disposable goods, even a basic mechanical watch can be a precious heirloom. At Collectors Corner NY we want to share our love for watches by curating top quality examples of collectible vintage and neo-vintage timepieces. We service when necessary but always prioritize preserving originality. We represent each watch to the best of our ability to put each client in the right timepiece for them.
Our services include: collection and estate consulting, sales, trade-in, consignment, servicing and watch sourcing; if something is not in our inventory we can leverage connections to find what you're looking for with a 5k minimum starting value.
Private showings are available for schedule in the Tri-State area via email: hello@collectorscornerny.com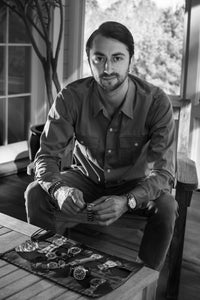 Wes Wynne
I remember building model planes with my grandfather and admiring the 1970's era Rolex on his wrist. We shared many of these moments together, and when his watch was handed down to me, I became the bearer of this time capsule, representing all of these memories. His watch ultimately set me on the path of collecting, and ever since I've been fascinated with horology.
 
Watches have played a significant role in my life, and while I've collected for years, in 2020 I decided to found CCNY. My goal from the onset has been to build upon the vintage watch community by finding pieces with unique provenance, and hunting the highest condition grade examples possible. This type of sourcing is much more difficult but it takes a lot of leg work out for my clients. My inventory is a reflection of my values: condition above all else when it comes to collecting.  
Prior to CCNY, I worked in music marketing for over a decade at Columbia Records, Rolling Stone, and SONGS Music Publishing. Making music and playing vintage guitars will always be a passion of mine, alongside photography, motorcycles and classic cars.
I hope you enjoy browsing the collection. I take pride in creating a personal relationship with each and every client, and I sincerely look forward to connecting and advising you.
Connect with us on instagram